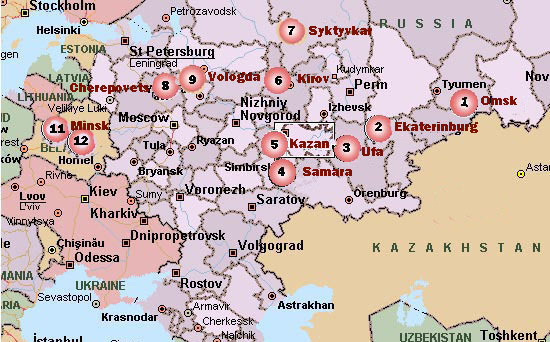 Russia. Oh! My! God! It was FREEZING. I don't know how they cope! We traveled all over the place (see map — although 11 & 12 should be 10 & 11) and everywhere we went it was relentless! At one point it was 38 degrees below zero. Cold like you couldn't actually breathe IN cold! They're so used to it there, they refer to these temperatures without even bothering with the zero bit.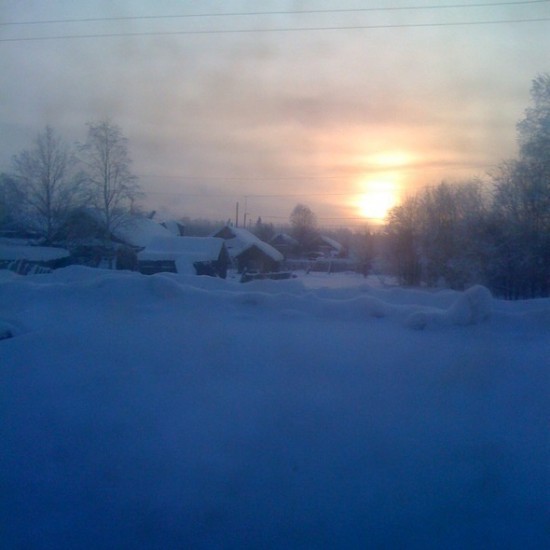 It was super pretty, though. Everything was silver – silver birch trees, snow as far as the eye could see, frosted trees. If we walked outside, even Daniel's moustache turned silver. And every morning the dawn cast pink shadows on the endless snowscapes as we rolled through the actual tundra. Meanwhile, we were praying that the train didn't break down, because if it did you were dead. And when Dana and I went shopping for a hat for him in Vologda, I honestly think my eyeballs actually froze.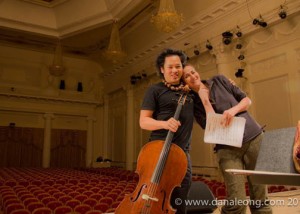 But, weather aside, I had a wonderful time. I especially enjoyed being with Dana Leong, who I have been playing with for eight years but who I now realize I didn't really know before. Billy (who, BTW, went to Russia almost as soon as I returned) told me that you really get to know who people are on the road, which (I realize from past experience) is so true. In Dana's case, I found out that not only is he a fantastic and simpatico musician, but a beautiful, deep, soulful person. I also really enjoyed being with Даниил Крамер, the wonderful pianist who invited me. I think this is my fourth tour with him and probably the most FUN.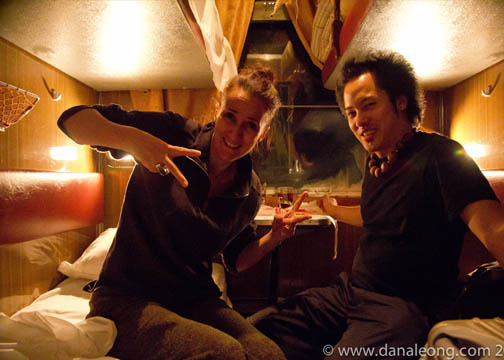 Even the train rides were less awful than I remembered – especially in comparison to the few times we drove for upwards of seven hours on icy bumpy roads in a tour bus (forget sleeping!) with bathroom stops that when you saw the actual bathroom killed any desire and need to use them. After a few of those road trips we were yearning for the relative "luxury" (and stainless steel but at least clean bathrooms) of the sleeper trains.
But the views are better on the roads because you go through towns and villages of teeny houses with pointy roofs and chimneys with smoke coming out of them. We did wonder what people were doing living in villages of teeny houses with pointy roofs and chimneys with smoke coming out of them, in the wilds of Siberia, buried by snow half the year. But we didn't meet anyone we could ask. It is entirely possible that they were literally snowed into their homes.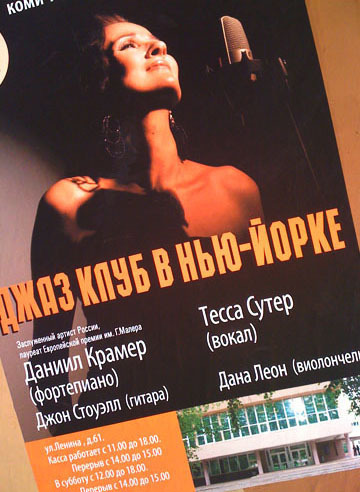 The audiences were amazing. The very first concert at the Omsk Philharmonic (all the venues were Philharmonic Halls) ended with a huge standing ovation from the entire place – even the seats behind the stage. We got lots of those as the tour progressed (ovations not seats!) This (below) is the one we got in Kazan).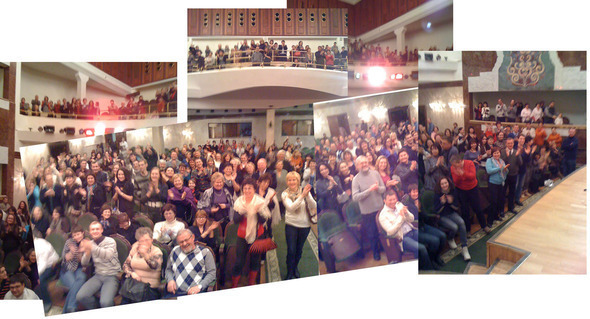 And all the concerts were either sold out (including the Ekaterinburg Philharmonic which was sold out six weeks in advance) or nearly sold out. As for CDs, I sold 64 on my first gig, and then eked them out over the next two gigs, which was silly of me, because I wouldn't have had to carry them if I'd just put them all out at once.
It was wonderful to go back to places I'd played before. I saw my young singer friend Katerina in Ekaterinburg – who advised me to change to my silver sequin dress for my second set, which turned out to be excellent advice (and which I followed for the rest of the tour).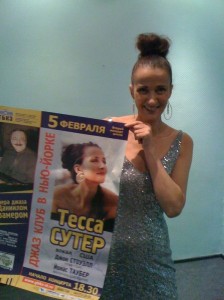 And people remembered me and brought presents. I got so many flowers, a beautiful lilac evening scarf, chocolates, a genuine Soviet era women's army hat, a water-soaked apple (apparently a great delicacy). Dana was given … er … a dried fish. Another delicacy, we were told. And sometimes audience members would lie in wait for your best song and rush up and present you with a flower or a bunch of them mid-set. A lot of women do this. I love this tradition. Feel free to copy. No fish, though, please. Oh, and no chocolates (ate too many on this trip).
Traveling between cities and gigging most nights was very hectic and exhausting. We were taking 15-hour train rides sometimes. And at the same time I was having to proof the liner notes for the US Motema release of my new CD, Beyond the Blue (release date, May 8th). I hope you like it! By the way, Motema label-mate Gregory Porter's new CD Be Good just dropped and is getting even better reviews than last year's (Grammy-nominated!) Water. He is absolutely amazing, if you haven't already discovered him. I am crazy about his voice, his song writing, his authenticity, his singing, his lyrics! Check him out. Meanwhile, I was so wiped out when I got back. I felt like a stone! Perhaps weighed down by eating too much chocolate too.
And, speaking of food, one day, Dana and I woke up super early and starving and walked the length of the train to get to the restaurant car where we were faced with a Cyrillic menu and non-English speaking waitress. Super sweet but how to order? Recalling many hours of Pictionary played with my son as a little boy, I drew what we wanted – bread, butter, eggs. Then the waitress drew a frying pan to find out if we wanted them fried or what.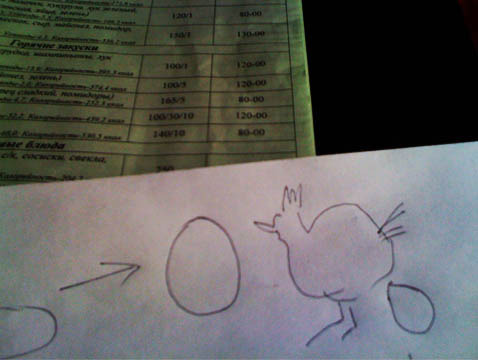 I admit there are a couple of interpretations possible with this illustration. Where is google translate when you need it!