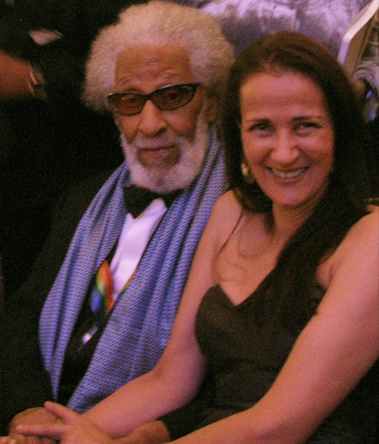 First of all, for the New Yorkers out there, I have a nice gig in Harlem this Sunday, which will be my last gig of 2011. This is not quite the same as being able to say that I was singing at the White House last weekend. Which I wasn't, by the way. I wish! But I did have an amazing two days in DC, courtesy of the Kennedy Center and White House, starting off at the Mandarin Oriental, where I rolled up at the same time as Jessye Norman. I was practically dashed to the ground by the stampede of doormen who rushed to greet her. But I dusted myself off enough to tell her I'm a giant fan.
Hey, I love it when people do that to me. Oh, okay, if you insist, that one time it happened to me on the street. I loved that one time. Actually, if you must know, it happened to me two times, once up by Columbia University and once downtown. Yes, yes, it was the same guy! But that's extraordinary in itself, right? I don't think he's a stalker.
We were there because Billy (who played with Sonny Rollins for three years) was in the band put together by Christian McBride to celebrate Sonny being awarded the Medal of the Arts. This involved two days and nights of partying, with Champagne up the wazoo, commencing on the Saturday night with a reception hosted by Hillary Clinton, who greeted us all individually.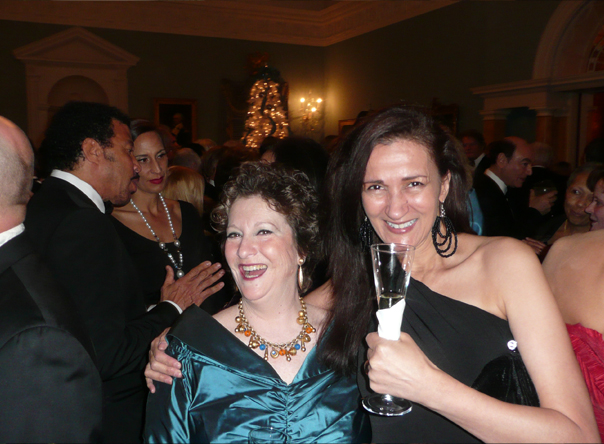 She is, by the way, actually very attractive in real life. We arrived on literally a busload of celebs — a bit like the school bus, except, instead of sitting behind school crush Stuart Goodrich (phoar!), I sat behind Lionel Ritche (that's him to the left of Judi in the pic below) just across from Alan Alda. And when some oaf was holding up the line of people trying to get to the seats on the bus, John Lithglow offered me his seat.
There's something rather surreal about seeing Robert De Niro have to produce ID to get in. Okay, totally surreal. In fact, it was all a bit like an actual dream, one of those ones where you're in a roomful of famous people, glugging champagne and picking snackettes off passing trays. We were even photographed as we walked in (on what I noticed on the way out was red carpet) by paparazzi calling out: "Mr. Drummond! Over here!" And Kevin Kline actually remembering me from being introduced ten years ago (which impressed me no end) was kind of like someone in a movie turning mid-scene to ask after your mum or something. And speaking of Mum, I wore her coat that I had spent the previous week re-lining with lilac silk (Mum, explain how you get ink on the inside of a coat with no pockets!) which felt a little bit like taking her with me.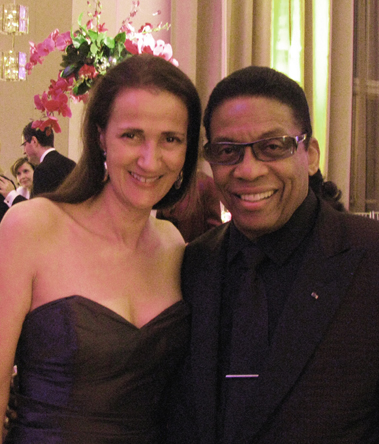 I guess, because it wasn't out on the streets, everyone was super friendly– especially the politicians who couldn't pass by without shaking your hand and saying "So nice to see you!" – which is pol-speak for "nice to meet you" — which they daren't say in case you're someone they're supposed to remember meeting before (like a distant ex-wife or something). Standing in the line for brunch on Sunday, John Kerry took that a step further when he was talking to us and kept touching the elbow of my BFFDL (Best Friend For the Duration of the Line), except it wasn't her elbow, it was her rib cage, which is rather more intimate — perhaps he thought they'd been married once. Then a few minutes later she noticed he'd worked his way up the line and was now about eight people ahead, instead of in his rightful place actually behind us. This is how politicians jump lines. Very charmingly.
And speaking of charming, Bill Clinton was obviously totally star struck by Sonny Rollins. He even sat at his table at the dinner on the Saturday, choosing him above any of the other nominees – Meryl Streep (at the next table to our right), Barbara Cook (at the table to our left), Yo Yo Ma, and Neil Diamond. And he gave the toast for Sonny, which was the best, most thrilling toast of the evening. Actually all the toasts were amazing (Nora Ephron did Meryl Streep's) but Bill's was our favorite, because it was about "our" man and he knew SO MUCH about jazz. Plus he tapped Billy on the shoulder as he passed our table so he could shake hands and say: "How are you doing, man." (I don't think he thought they'd ever been married).
And speaking of tapping – which Billy would never do! Overcome with starstruck-ness, Billy, who is normally very shy, simply had to go and introduce himself to Meryl Streep. He said something like, "I am a big admirer of your work!" And she said: "Oh, that makes me so happy!" So star struck were we that we didn't even notice Anne Hathaway (the one with the "What am I, chopped liver?" expression) in the group.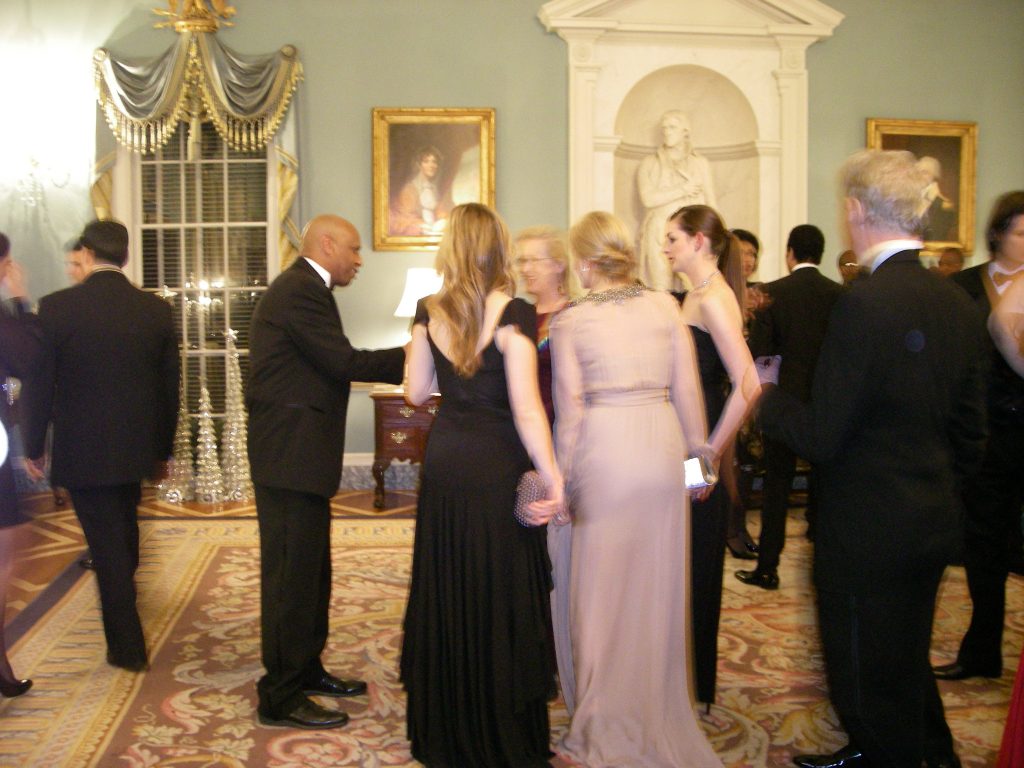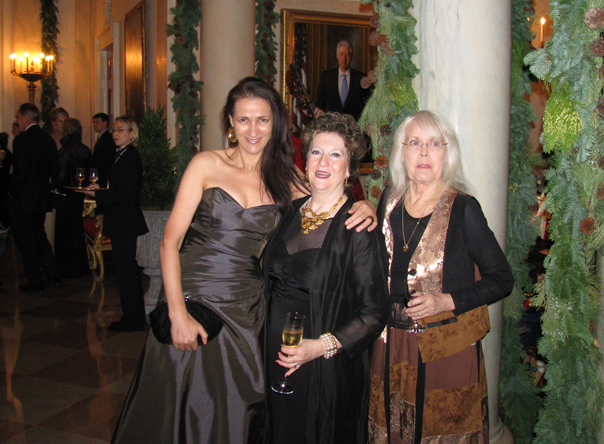 And the next day… after brunch (more Champagne), there was another reception (this time at the White House) in the afternoon (with even more Champagne .. hic!). And food, including a White House made entirely of white chocolate (see below) – although the staff told me it wasn't to be eaten. See, it has little rooms in it, with lights on!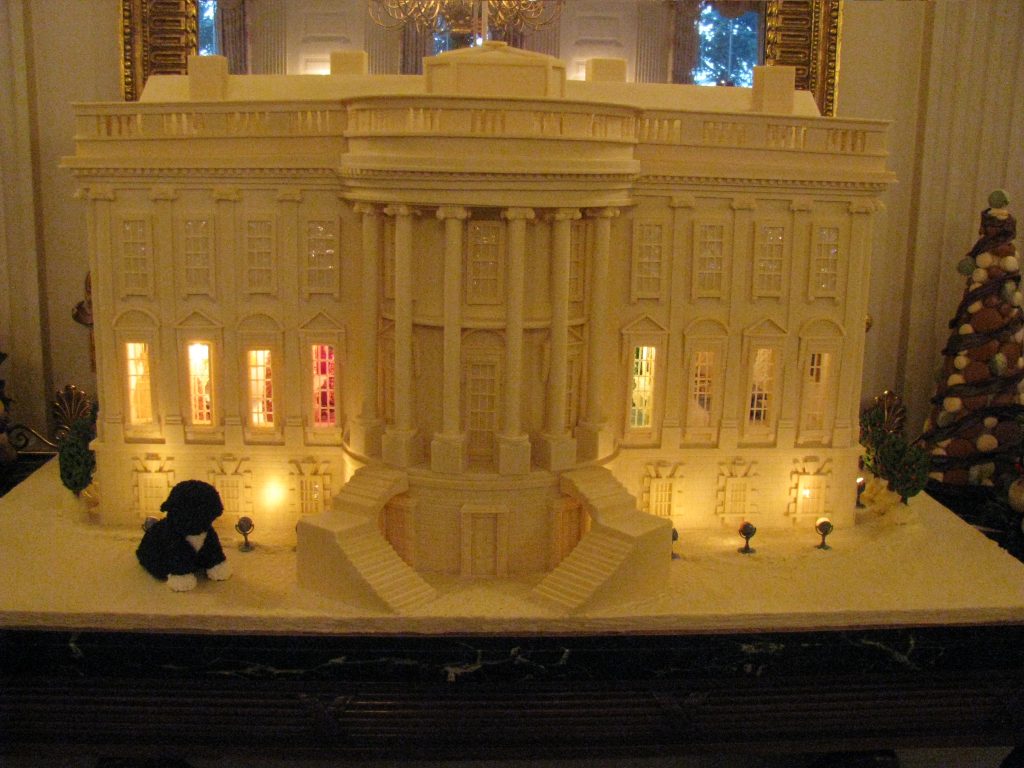 And then the President introduced the honorees in a separate room, which was televised in our room, the room with all the food (and Glenn Close) and the Chashmupagnshpaygne— hicshh!  And also coconut cake, which is my favorite and when I told Jimmy Heath that I wasn't supposed to eat it (cholesterol) he said nor was he, but was my doctor here, and when I said not, he said "Nor is mine!" And so we chowed down. And then . . .  (drum roll) . . .
. . .  suitably liquored up, we were taken to meet the Obamas. President Obama looked a bit tired, poor thing. But she. She is ohmygoodnessagoddess! And whereas he was … well, looking a bit tired, poor thing, she … she was acting like it was her absolute most favorite thing in the world to stand and shake hands with 200+ people — especially YOU.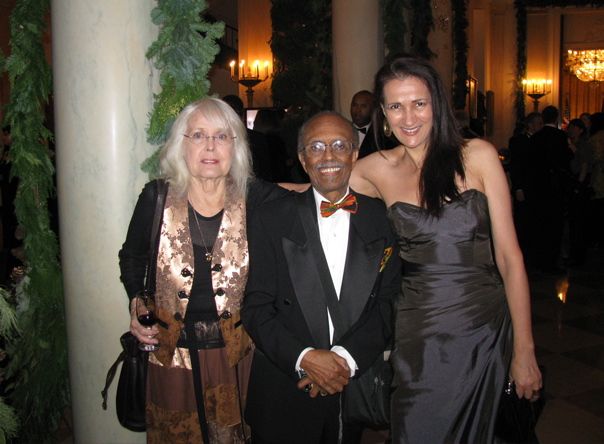 And when I said "ohmygoodnessyouareagoddess", she took both my hands and spread my arms apart and said "Look at YOU!" And then, I think, she actually hugged me. I say, "I think" because, strangely and unexpectedly, actually meeting them was an experience that puts you so totally in the moment that you almost aren't there at all. Or washz that the SHChampagne – hic! oops! Or both.
The next day I turned to Billy and said: "Hang on a minute… Did I hug Mrs. Obama?" And he said not only did I, but he was expecting me to be arrested when he turned, horrified (he's from the polite and gentlemanly South), to see me coming out of the hug. But obviously it wasn't me that initiated the hug. I mean, come on, everyone knows that Mrs. Obama is the hugger. She hugged the Queen of England. In fact, maybe this was an autopilot reaction to my accent. Whatever it was, it felt like a blessing – like when a baby smiles at you on the subway. And of course I will now never have that dress cleaned.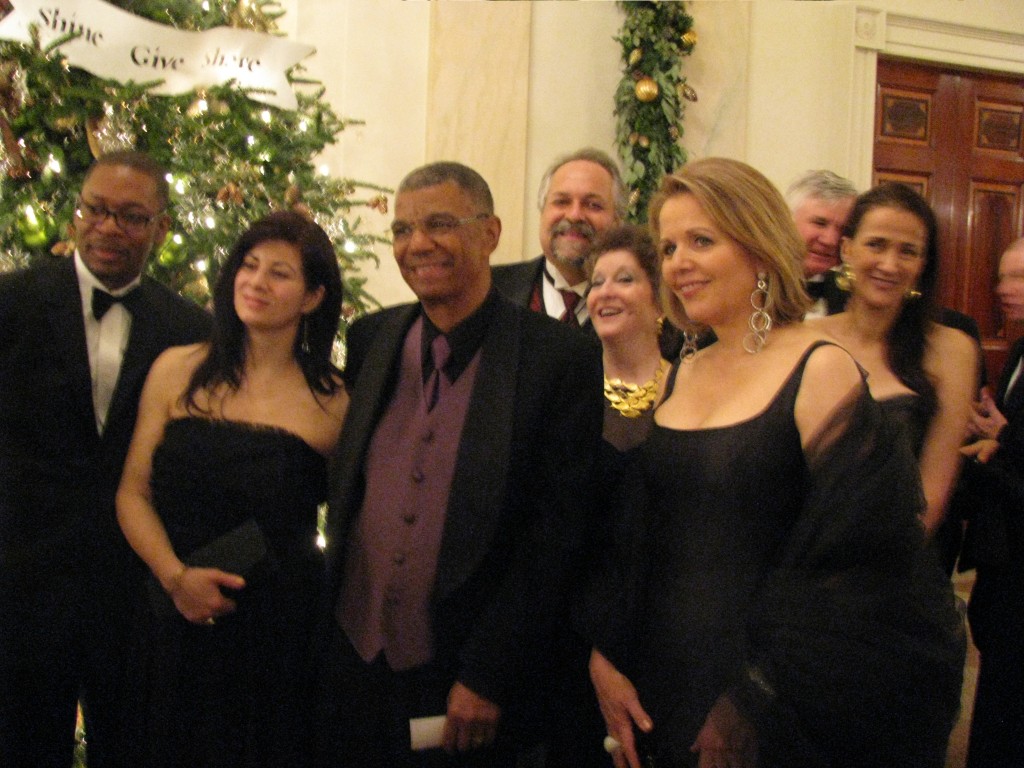 This is the life to which I wish to become accustomed (especially the Champagne part) – not to be confused with the Life, which is Harlem-speak for gone to the dogs. I'm not even going to mention the enormous basket of scrumptious treats that the Kennedy Center had left in our room. Or the absurdly enormous double bath and marble tiled double shower. Or how sleeping on a cloud makes you wake up looking ten years younger (Must. Buy. New. Pillows. Without lumps in them!). Or how I felt like a proud mum (albeit, I hope, a M.I.L.F.) in my gown (as opposed to mere "dress") sitting in the audience (along with — though not next to — the Obamas) watching my boyfriend play with Herbie Hancock, Joe Lovano, Christian McBride, Jimmy Heath, Benny Golson, Ravi Coltrane, Jim Hall, and Jack DeJohnette – who joined in for one of the songs – who was playing Billy's ride cymbal (which, for reasons perhaps only another drummer could understand, was apparently terribly exciting).
And speaking of excited… the GOWN. Even before being imprinted with Mrs Obama DNA it was already special since Billy bought it for me because I needed something "special". He not only bought it, he dragged me around several shops to find it and then he picked it out (it's the grey silk strapless in the pictures) and sat there like a proud D.I.L.F. while various women fussed around me pulling and tugging and adjusting undergarments to see how it looked. And when it needed altering at vast expense and I was quite ready to go off to H&M to save the money he said: "Of course!" Every now and then I fondle it in my wardrobe (it rustles because of the tulle underskirt) and remember that weekend. And remember to say thank you.
But now here I am back in the C-Town of neighborhoods, where a girl has to line up for two hours in the local post office to get stamps because every time someone asks for stamps, the staff (behind the bullet-proofed — or perhaps merely irate customer-proofed — windows) go off to ferret around in the back for half an hour looking for them in the SAFE! People! This is a post office. Someone might ask for … Hello? … stamps. By the way, what the hell are they doing in the safe in the first place? And I am so missing "my" double bath and double marble shower, not to mention the downy pillows. But as, one hopes, more-than-once-in-a-lifetime experiences go, that was a grrrrrrreat weekend! As Ravi Coltrane so perfectly put it when we came out from being presented to the Obamas: "Man! That was a ride! Can we go again!"