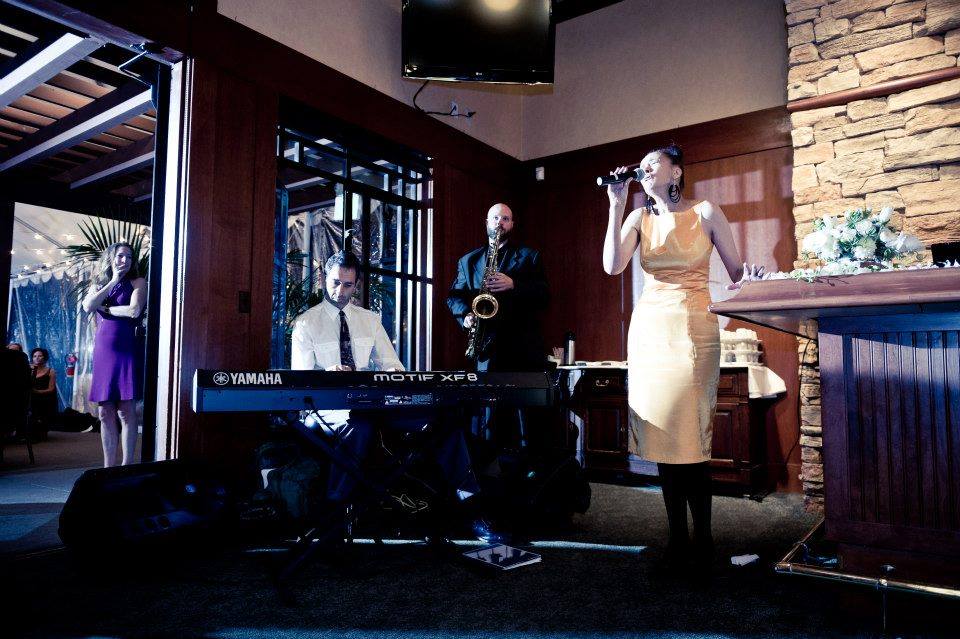 Here I am in the most beautiful city in the world, which I am returned to for my friend Andre's wedding to Anastasia (that's me at the reception singing two songs for them). Oh my God! This place is so friendly. People smile at you in the street as you walk past. Sometimes they say things like "Good morning!" Or "I've got two magazines, would you like to read my other one?"
Palm trees like giant green pineapples with flared leaves jostle with the bougainvilla and other blossoms I don't recognize on the sidewalks. There are trams whizzing along Church Street near where I'm staying. Actual trams. That real people commute in. It would almost be too much (I think there is such a thing as 'too beautiful' just like there is such a thing as 'too thin' though perhaps not 'too rich') if it weren't for the mess of cables all over the place, which stops it from being too chocolate boxy.
I can't believe I used to live here and then moved! Then again in the non chocolate box department, it would be hard to beat where I live in New York. Young men on every street corner doing pull ups on the traffic lights. Giant pit bulls straining at their leashes to get at the chicken bones strewn all over the street. The faint smell of … well, let's just say, not eucalpytus trees and blossoms. And God forfend you should leave your brolly in the vestibule of Balthazar's when it is bucketing it down as I did once (and ended up looking like a wet tee-shirt contestant by the time I got home).
Hah! Take that, San Francisco! With your clean streets and your people smiling at you as you walk past, and your ferry rides across the glittering Bay in the blazing sun to get to your rehearsals, and your Trader Joe's and supermarkets which sell alcohol under the same roof! Not to mention your coffee shops on every street corner in residential neighborhoods, and your specialty cheese stores, And delicious breakfast confections such as those you have tried to tempt me daily at Martha & Bros coffee shop..Er … hang on a minute …
Oh all right. I admit., it is pretty fantastic. I've had TWO burritos (how come nowhere else makes them like they do here?), and got takeout from my favorite Chinese restaurant in the world — Eric's on Church Street — the night I arrived. And even the cat I am sharing the apartment with runs to greet me PURRING, when he hears my key in the lock. Although it's kind of hard to sleep with him trying to burrow in the bed with me at night.
And yes, yes, I am literally stopping in the street to smell the flowers. And I thought it was sweet when a woman on my commute to Larkspur (by ferry — sigh!) sneezed and the entire ferry-full of strangers said "Bless you!" in unison. And the wedding was beautiful. And the bride's dress was like whipped cream. And her mum's speech was absolutely hysterical — funnier than Tina Fey! The house concert I did the night before was amazing in a Russian Hill mansion owned by a woman who just loaned it to us (us being me and pianist Dan Zemelman) as a favor. Unbelievable house (and yes, since you ask, I really enjoyed greeting people at the door and taking their coats and proffering wine like the lady of the house).
But being here makes me realize I'm a New Yorker to my very bones. I even walk like one! — going at my normal pace the other day I suddenly noticed I was overtaking everyone on the street. And on my first day here, as i walked into a store, and the girl walking out said "Hello" I had to stop myself saying 'Hell – oh — oh?" (i.e., in three syllables with a giant question mark on the end) — although I would never take someone else's umbrella. So even though it is gorgeous (and even the weather behaved — for the most part) …. And even though I know Joni Mitchell would disagree with me ….
Ah but my heart cries out for you, New York
New York, I'm coming home
Will you take me as I am, strung out on San Fran (might be all those trips to Martha & Bros coffee shop)
You make me feel good rock 'n 'roll band
I'm your biggest fan, New York, I'm coming home
See you soon, I hope.
Love Tessa
NEXT UP: Joe's Pub, New York, on October 8