A heads up to come and see us (Marvin Sewell, guitar, Dana Leong, cello, and me, voice) at the 55 Bar, TONIGHT, Friday, August 9.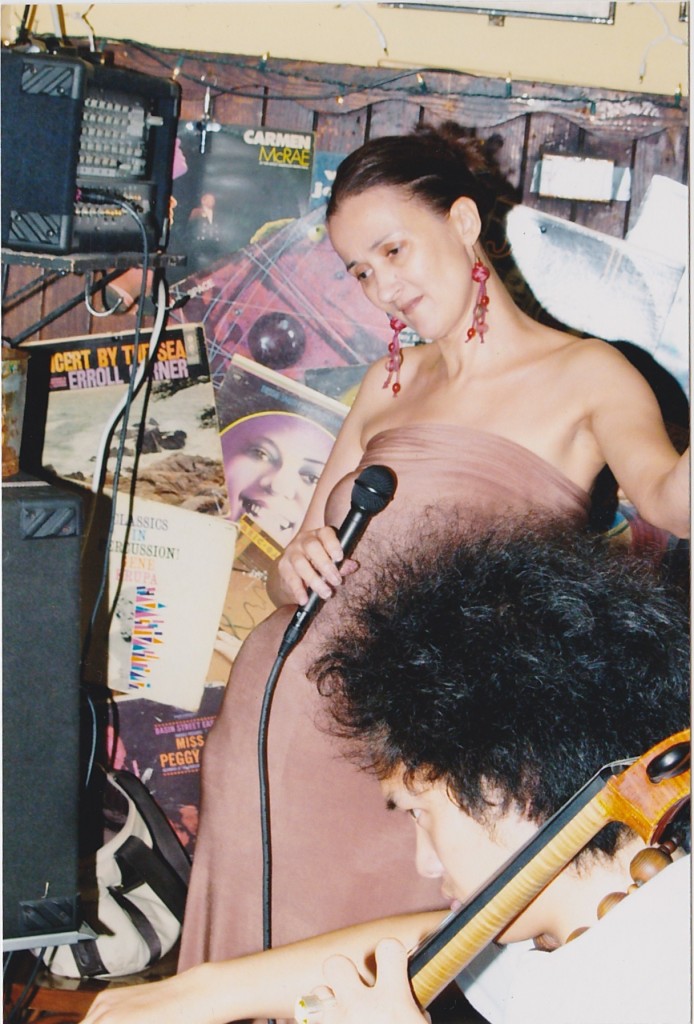 Meanwhile, I am in sore need of a break from what started out as a mild bit of decluttering/feng shui and has now turned into a full on palarva. And I haven't even started on the clothes and shoes – for example the high heeled leopard pumps that I allowed some stranger in the shop to persuade me to buy: "You have to buy them! High heeled leopard pumps are our sneakers!" – "our", I now realize, referring to a particular group of idiots who believes people who say they can go jogging in shoes that are too high to even stand in, let alone walk in.
Which reminds me of the time I was shopping with my friend Robin and excitedly heard myself saying: "Those shoes are just perfect for . . .  sitting down!" However, unlike me, she didn't buy them – basically because walking in them would have required being on all fours. Meanwhile, those damn high heeled leopard pumps did fit me in the shop! I swear! And speaking of mysteries (and back to feng shui) . . .  what was I even doing with a giant bag of arborial (wot?) rice in the first place, and how did it quietly live in my fridge untouched for eight years!
Turns out that de-cluttering is a bit like jogging. Sounds like a great idea and it's easy to start. But then after a few hours (or minutes, if it's jogging, of course. . . or seconds if you are jogging in a pair of high heeled leopard print "our sneakers") you think, what am I doing? Only, instead of like jogging, where you can pretend you were just sprinting to the local wine bar for an emergency glass of wine, a few hours into de-cluttering, your place looks like a teenager's bedroom. It's like swallowing a raw egg – once you start, you have to keep going. (What? You never ate a raw egg?!)
However, my newly painted fridge (yes, there is a thing called fridge paint) is now gleaming white, instead of dirty beige, and my landlord is giving me a new WHITE stove (the correct color for that "gua' of my apartment). And my super is laying me a new kitchen floor (can this be due to cleaning up my "helpful people" gua?) And since I've got the paint tin open and I forgot to buy mineral spirits to wash my brush, I've been going mad, fridge-painting everything – including the kitchen cupboards, the wall around the stove and the kitchen window. And a green filing cabinet. Aaaah! It will feel fab when it is done. Unlike raw egg ingesting.
Which brings me to tonight (Friday) …. eggnog anyone? Actually, do they even sell it at the 55? Maybe not. But they do have emergency wine and other choice beverages, and Kirby to dispense them at the bar and me and Dana (Leong on cello) and Marvin (Sewell on guitar) to entertain you, and Pascalito is going to sit in on Avec le Temps (singing in real French!) and his mum, a visiting singer from France will sing a song. It will be fun, especially if you come! And I'll wear my leopard pumps (just perfect for sitting on the bar stool!)
See you there, I hope! My Top Ten Feng Shui tips below:
Don't!
Oh look, I ran out of space.