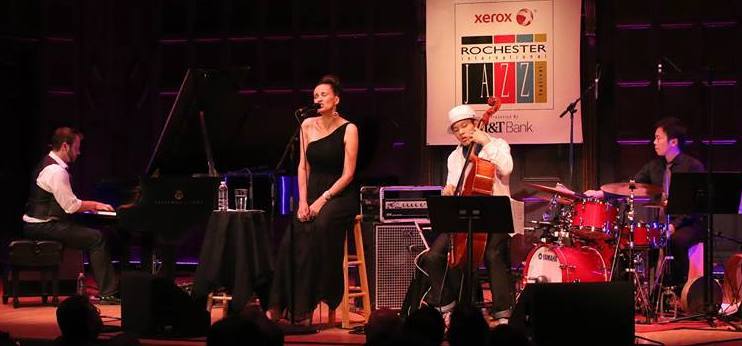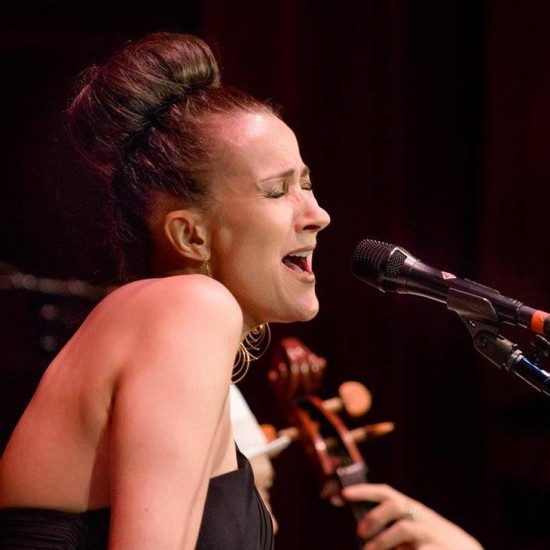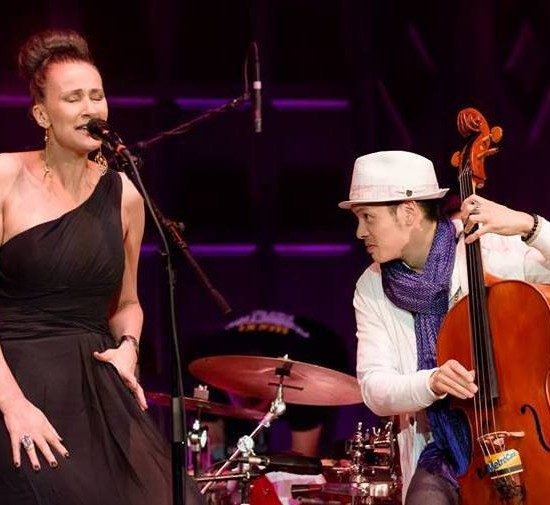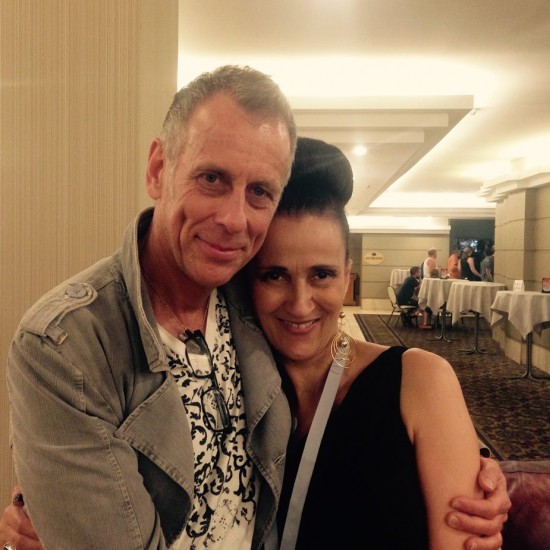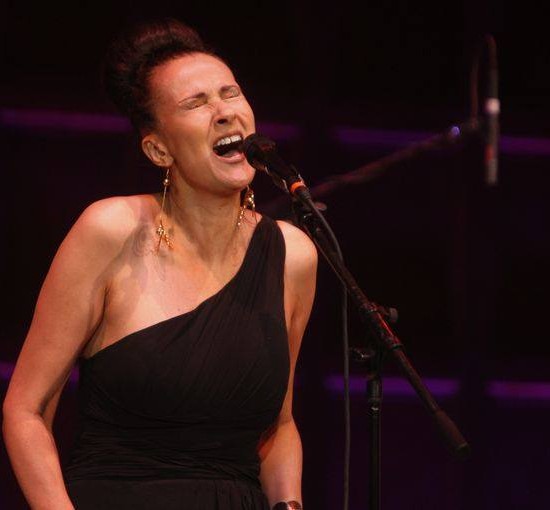 The Xerox Rochester International Jazz Festival was incredible, not least because we actually made it!
First of all, two weeks ago, I fell and sprained my ankle, which  meant no exercise which put paid to dieting into the "perfect dress" for the PBS taping. Three days before the gig I was still half an inch or so away from fitting into it, but it was so tight I'd have had to walk like a robot and would not be able to sit down without my body automatically springing into prone position! This would be bad because, due to sprained ankle, I needed to sit.
But three days before the gig, I managed to find another the perfect dress on line. Sort of one-shoulder loose-flowing Greek goddess style with a split up the side in the lining and in the diaphanous fabric over it. I changed it from a "ho-dress" (a la the recent Met Ball affairs worn by Kim Kardashian and J.Lo and others who misinterpreted the brief) into sexy but classy, by sewing up the split in the diaphanous bit so there was the merest whisper of leg showing through it, and not bare-skinned ho-type leg.
So I was all set. Until, the night before the gig, I got a text (thank you, Lord for making me sign up for text alerts) saying that all our flights were cancelled! This meant scrabbling around to buy – at vast expense – train tickets to Rochester for the four of us at $119 (plus $8.50 insurance) per ticket. It also meant getting up at 5AM in order to make the ONLY train that would get us there on time. Or so I thought. The panic was insane. But we all made it and caught the 7:15AM which was getting us in a few hours later than the plane would have but … hey, getting us IN! And I could sleep on the 6.5 hour train journey, right?
So … a little tip: If you are hoping to sleep, never sit in the front car. The train whistle, that sounds so romantic and soft from anywhere else on the train, is blaring right in your ear in the front car. Added to which, my fellow passengers (not my band, but the people behind us) were somehow able to sleep and were snoring loudly. Also farting. This is bad when your Kenny Werner meditation MP3 is exhorting you to "Breath in. Breath in deeper than you want to!"  I moved to a new carriage, but somehow managed to sandwich myself between a baby with Whooping Cough (behind me) and a woman who was singing loudly and snapping her fingers in the seat in front. But it did mean I could sort out my set list, which came out like automatic writing. As it poured out of me, I thought, "But yes. This is perfect! This is the perfect song to follow this one…." –  among other thoughts, like "Shut up!" and even meaner ones.
The train (Amtrak) also kept cutting out like a cheap electric train set, which was adding to the stress. Eventually, we rolled up to about five minutes outside of Rochester Station, already an hour and a half late, and ended up waiting nearly an hour more because there was debris on the line. A motorbike, to be precise. I was ready to jump out of a window by then, which would have been bad (especially with my still-swollen ankle). I had already missed being interviewed by the Rochester 901.0 radio station by my favorite Derrick Lucas. I was not going to miss this gig. But luckily, the debris was cleared and we rolled in, where we were picked up by Larry, who always seems to pick me up at the Rochester Jazz Festival. But no time to check into the hotel properly, so we were driven straight to the venue, where we were even late for sound check. Aaaiieeee!

Finally, even later than "already late" we did a lightning-fast sound check so they could let in the giant line that had formed outside, leaving me 15 minutes to get ready! For a PBS taping! A whole hour about me! Having got up at 5AM to catch the train which I was not able to sleep on. But miraculously, I did transform myself from a baggy-eyed granny, into a GILF (F for Fondle of course!) with the help of a benevolent Universe, although it had seen fit to hide my hair brush (thank the Lord for fingernails and hands, stress-shaped into talons with which I clawed my hair into a bun!). Hair. Check. Makeup. Check. Dress. Check. Shoes… I pulled them out of my bag … two right shoes! (Oh come on! Don't pretend you don't buy two of anything you really like!) Yes I wore them. For show (absolutely not for standing in). They were gold!  Luckily, I had already ordered a tall stool ahead of time because of my sprained ankle. But nerves? Shmerves! There literally wasn't time.
The gig was so much fun! All the guys played brilliantly – even better than last month at the 55 – and you can read two wonderful reviews, one in the Democrat and Chronicle Jeff Spevak review PDF and another review in the Rochester City Paper here.  Plus, in the City Paper post-Festival round-up I was referred to as one of "two favorite" vocalists (the other was Cecile McLorin Salvant, who I love), which is pretty amazing given how many truly great singers were at the festival.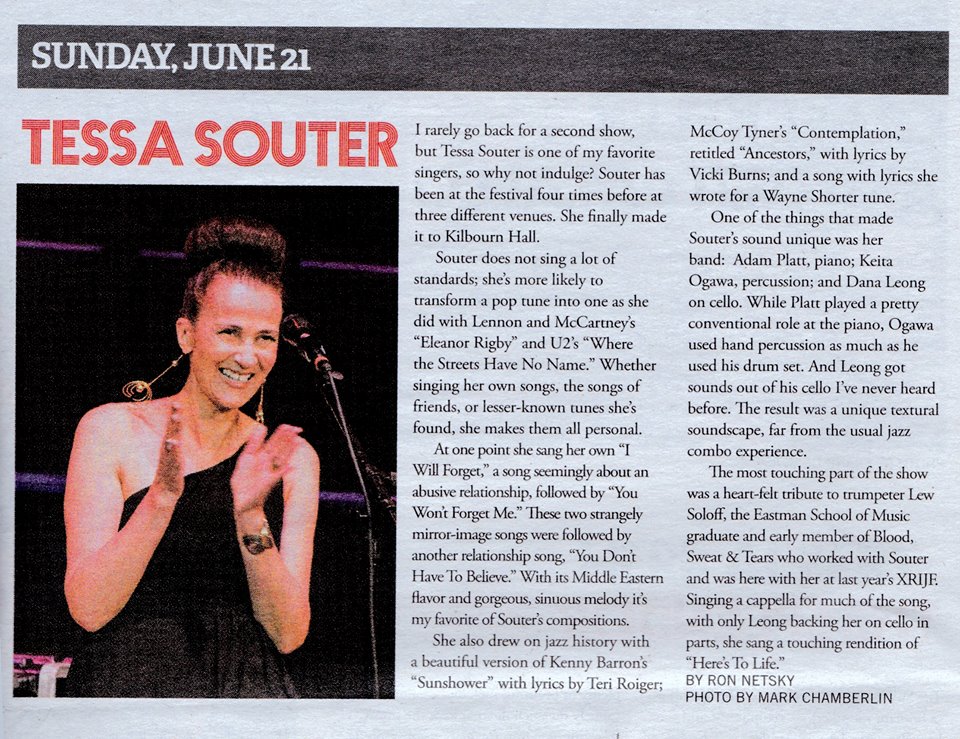 Giant thanks to the festival's Artistic Director, John Nugent who keeps having me back and put me in Kilbourn Hall this year because, he said, I'd earned it. And Barbara Cherry who insisted I did "Here's to Life" (I had sent her a duo version I did with Dana years ago) and her favorite, "Eleanor Rigby" – both of which were popular choices. She also hooked up the cello by putting us in touch with the wonderful Sullivan Violins company, who generously loaned us one actually made by Ken Sullivan. She took pictures, handed out cards and was generally very bossy – in a good way. Thank you also to lovely Jessica, who was so capable she made me wish I had a daughter – my capable granddaughters are just a bit young! Every time I turned round to say: "Oh no! My pen!" or "Help! I forgot my (two right) shoes!" Jessica would be right there, holding her clip board in one hand, and my forgotten items in the other. Thank you! And thank you Rochester audience! I absolutely love you!
So . . .  in spite of the Universe (or perhaps it was just testing me before the gig) we had a good one. Two standing ovations in Kilbourn Hall. People who were in the first set came back for the second set four hours later (Rochester Jazz festival audiences are the business, as we say in England). And PBS – who interviewed me after the first show (which they taped – said they were very happy. As Dana said: "PBS! Our mums are going to go crazy!"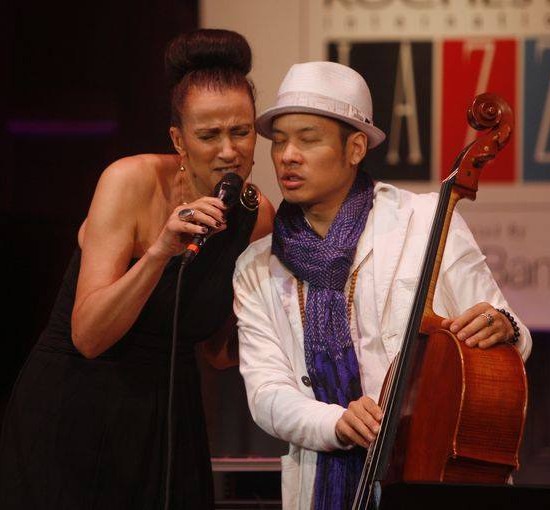 After all that, too exhausted to really hang out after the gig – although I did run into fabulous Joe Locke, who was playing Kilbourn Hall the next night (and who was so absolutely essential on my Beyond the Blue album) – I went straight to sleep, without checking that there was a link to my Kickstarter campaign from my website – as directed on all the little cards we were giving out to the wonderful audience. And I didn't discover it until really late the next day because, at the airport with Dana, I suddenly came over all light headed and nearly passed out and then threw up (elegantly, I hope) in a nearby bin. An ambulance came, for heaven's sake. In case it was a heart attack. And we had to get a plane four hours later. But, see, Rochester people are so sweet that even the man who had to change the bin found me later and asked me: "Are you feeling better now?"