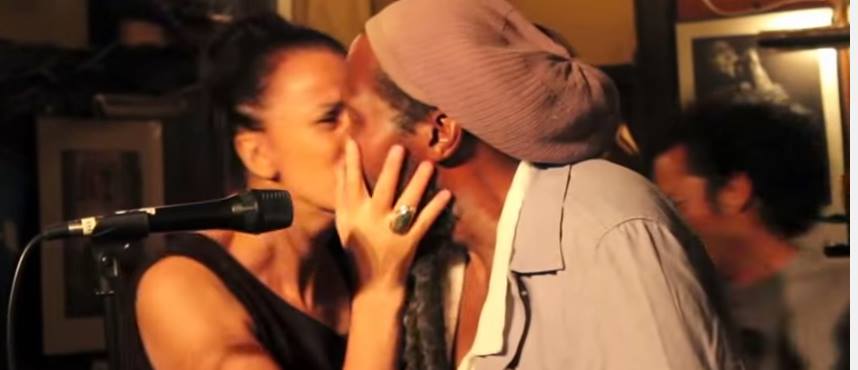 If there was ever a man who was generous gracious and good / That was my dad, the man / A human being so true he could live like a king cos he knew / the real pleasures in life / To be devoted to and always stand by me / So I'd be unafraid and free – Song For My Father, Horace Silver
The day before yesterday a little bird flew right in front of the kitchen window, in the morning when I was doing the dishes. It twisted in midair and then flew straight up! I've never seen a bird do that before. I said to it out loud: "Wow! You are so happy!" Then at 6pm, Mansur's twin sister, Kathy, called and told me that he had died that morning.
As those of you who know me know, Mansur was my spiritual guru and my musical mentor and, more than that even . . . my dad! Hence the lyrics above to 'Song For My Father', which Mansur often sang when he sat in on my gigs. He came to nearly all my gigs before his first stroke and still struggled out to see me afterwards, even though it was a trek from Harlem.
Just a few days ago I was lamenting to my friend Deon that I was really missing him lately because, up until he had his latest stroke a couple of years ago, we would speak nearly every day. The last time we spoke, a few weeks ago, he wasn't able to say anything beyond "What's happening, Tess!" But I am grateful to be one of the few people he still remembered. And Kathy told me yesterday that whenever she mentioned my name it lifted his spirits.
He certainly lifted mine. He was a giant influence on me in every possible way, advising me on everything! Love. Men. Spiritual matters. Music. He heard all my compositions and lyrics first before anyone else. And he taught me to sing my story and not worry about whether or not it was jazz. He was a deep, deep soul. And wise! He didn't know everything but he knew 99% (especially about the men!) He sang like that too! As you know, if you ever saw him sing. Man, he is the only person I know who got signed to a record label (Pau! Records) without trying.
I had the strong urge to call him on Sunday but I didn't remember until 3.30pm, which was too late in the day (his sister was there daily from noon to 3 and she would hold the phone for him). That's a lesson to follow our urges! And also to stop being so "New York busy" – something he never was. Even if you called him at 4AM he'd be right there for you with "What's happening, Tess!"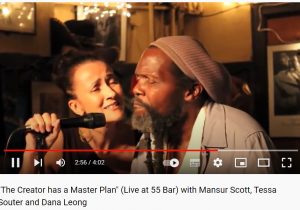 A lot of people have written to tell me that he really loved me, which is lovely of them, even though I already knew that. And, as is clear from the video of him singing (click the picture left to watch him singing on my gig with cellist Dana Leong at the 55 Bar), I adored him! When he had his first stroke in 1999 I was at the hospital so much we told the doctors I was his daughter, and he renamed me Jemilah, which means "One who is Beautiful." My name for him was Mancini, because he was music. Never Forgotten. Always Remembered. .