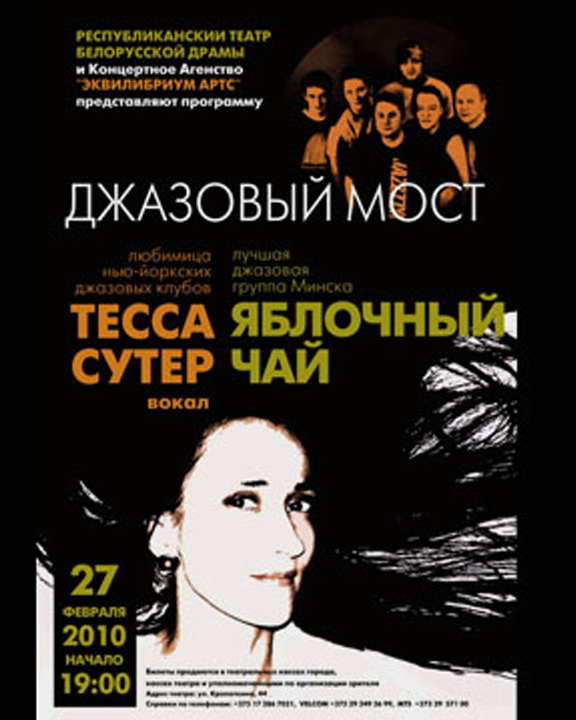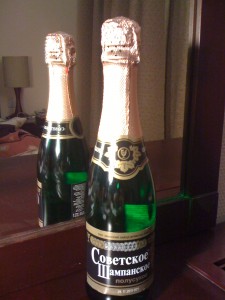 Belarus and Russia were magnificent. Let's just say, Soviet champagne ROCKS! (No, not on the rocks). Plus … I played with incredible musicians, the audiences were appreciative (and poetic in their praise), I had a wonderful experience of giving a master class (more please!) and I had FUN.
Three out of the four gigs in Belarus were SOLD OUT with people trying to get in (and not succeeding), except for one restaurant gig we had, where the guys all dressed up in tuxedos at 10pm after our first concert (the one at the Belarus State Theater at 7pm) and where we ate unbelievably delicious food (and drank Soviet champagne of course!) at vast expense. I had a pasta with gorgonzola sauce with walnuts which was so delicious that I sought out a similar recipe which I cooked last night without incident.
As some of you know, I accidentally set fire to my favorite cook book — Mark Bittman's How to Cook Everything) the last time I attempted to get fancy (ie, cook anything that isn't lentil soup or vegetarian chile). Some of you also know I make a mean mushroom lasagne — although I have now notated in the actual cook book "Add the damn mushrooms!" after the time I carefully layered all the ingredients, except the mushrooms (in mushroom lasagne), and had to start all over again!
Billy was so impressed that I believe he might actually let me do some cooking from now on. His eleven-year-old recently reminded me (by way of helpful explanation) of my first attempt to cook at his house — burgers, which mysteriously swelled up "burgerballs". Anyway. the gorgonzola sauce (and so EASY!) has redeemed me. In fact, it is so good (and so easy), I am putting the recipe below.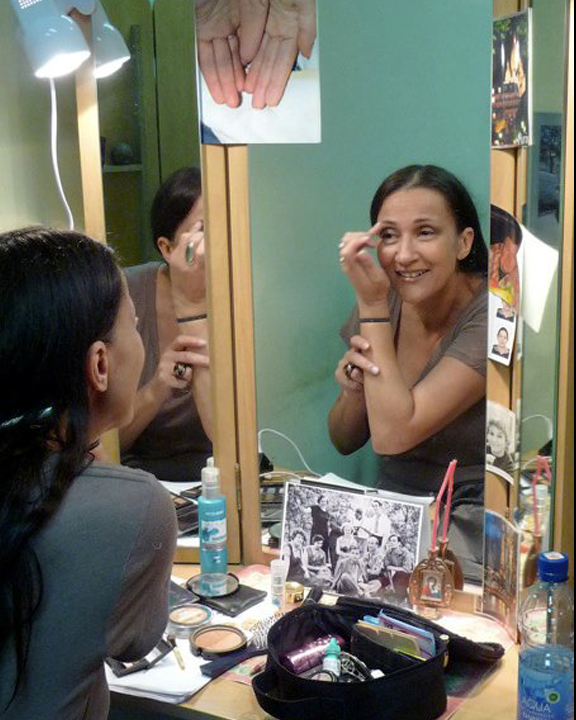 By the way, those of you who heard me announce at our last 55 Bar gig that I had found a brand new laptop on the subway last month, the end of the story is, by Sunday night the owner (a young woman) had emailed me and on Monday she got it back. She cried, because she said she had many emails from people saying things like, "Fuggedaboutit! This is New Yawk, baby!" However, one of you who had heard my announcement that night saw her mournful ad on Craig's List the next day and sent her my email address. So her faith in humanity was restored.
The moral of the tale is … well, don't even BOTHER to get in touch with the Lost and Found department at MTA. That would be the Lost department. I STILL haven't heard back from them. But also,  put your name and address on your computer please! Because many people are honest and would want to return the computer. In fact, I just put my name and address on mine yesterday! Deciding to take my own advice — always a good idea. Meanwhile … the power of email and the internet is amazing!
And speaking of power …. here's Mark Bittman's …
GORGONZOLA CHEESE SAUCE
Half a cup of crumbled Gorgonzola
Half a cup of half and half milk
Half a cup of fresh Parmesan
Two tablespoons of butter
Melt the butter. While that is happening, start adding the half and half to the Gorgonzola and mush it all up together bit by bit until all the milk is added. Stir cheesey mixture into the melted butter and cook — stirring all the time — over a low heat. When thick and absolutely delicious, add it to a warm bowl of cooked pasta (now, you DID remember to put the damn pasta on, right?) and toss in the Parmesan and stir. Serve with a simple salad of arugula leaves and tomatoes and avocado, drizzled (I say 'drizzled' because that always sounds like you know how to cook) with olive oil and a little balsamic. And VOILA!