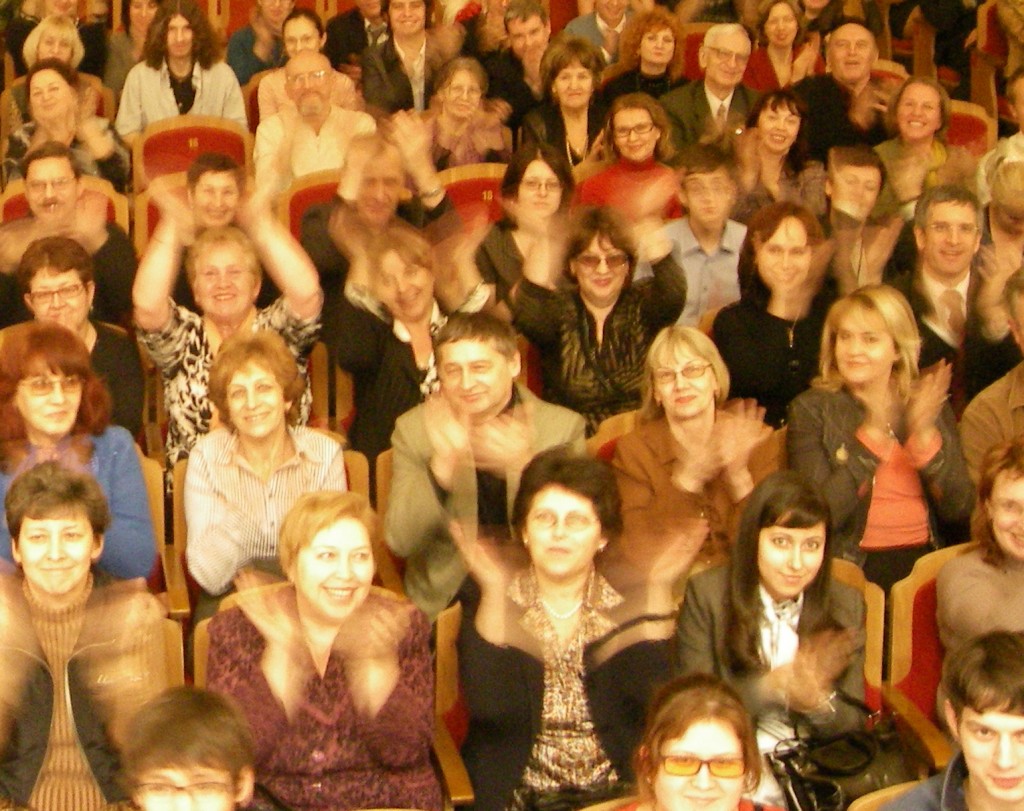 December 11, 2008 I finally arrived in Moscow. The Siberian tour was wonderful and I sold out of CDs and met lots of wonderful, soulful Russians. Okay, so the food wasn't ideal. But everything else was amazing. We even went to a Scottish jazz pub (see picture of me standing between two hunky Russians in kilts). They even had a flag! Though there seemed to be a bit of confusion because it was actually the Welsh flag. I felt kind of sad as I said goodbye to everyone last night. We were traveling with another two bands who were opening for us. A certain bond happens when you travel en masse on the overnight trains in Siberia.
But although the cab ride from the airport to the hotel today took longer than it did to fly in from Siberia I am THRILLED to report that this hotel is POSH! Already had room service (expense be damned!) and am planning to avail self of the gym and maybe even the sauna later. Yes a gym and sauna and beauty spa are on the premises. I even have internet (free). There is wood. Real wood furniture. Two bedside tables — though a single bed. And a bath WITH A PLUG so I can actually have a bath. Luxury beyond imagining. As for my fellow musicians … Richie, Oleg and Daniel were heading off for another overnight train trip and the St Petersburg musicians were taking a 36-hour (this is not a typo) train trip back home. I thought of them all as I walked up the massive corridor here towards my room. I'm afraid I started laughing. Aloud. All alone. Not at my fellow musicians, enduring more travel horror (as if!), but with JOY! Pure joy! It's the contrast, you see!
A nice glass of red wine later, I am feeling more like "La Souter" — as they called me in the Italian newspapers in Palermo. Although I must confess that playing at Philharmonic Halls throughout Russia does make you feel pretty grand. When I walked through the foyer to get dinner, the crowd that was still there after the concert burst into spontaneous applause as I passed by, waving and smiling in a queen-like fashion (having been instructed at the start of the tour by Daniel to act more "like a star!" As you can imagine the Queen of Ham doesn't need to be told things like this twice!). Little did they (or I) know that dinner was going to be shredded boiled egg on mayonnaise and grated carrot on top of bread followed by spaghetti with no sauce, cos I don't eat pork, which meant I missed out on the giant slab of pork that was served up with it. Or was that why they were applauding. 
But I had lovely emails today from people who said they witnessed people in tears at my performance (nothing like hunger to make you sing with feeling!). And I scored the massive poster outside with my picture on it. It is now all folded up in my suitcase, weighing more than everything else combined. Next up is the gig in Moscow club on Friday followed by a surprise Russian TV appearance on Saturday. Eek! I think I'm scared, but am hoping "La Souter" shows up for that one. And then it's back to London and then HOME HOME HOME! I can't WAIT! I hope you will be able to see us in January. Then I go to Korea for three weeks, and then back for February (save the date for Valentine's Day at Cornelia Street — FANTASTIC food! — and also on Feb 25 at the Kitano, as well as 55 on Friday, Feb 13!) Meanwhile, more pictures from the tour.