My debut tour of Japan was utterly amazing on so many levels. The food, the people, the music, everything . . .  EXCEPT . . . on the very last day I had sashimi. Delicious sashimi. Fresh sashimi. Positively glistening with freshness sashimi!. Which, it turns out, is exactly how I ingested an Anisakis worm wreaking some serious havoc on my body. For months after I recovered, if I ran into anyone on the street they would leap upon me and hug me and tell me how beautiful I was (politely not adding, "Because, Man, you looked horrendous in those photos!")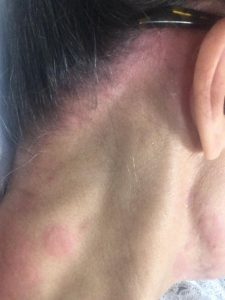 In Japan there are maybe 3,000 cases a year (although it has increased 25-fold in the past year) so a Japanese doctor probably would have spotted it as soon as I went in to the ER. However, in the US, there are only maybe 10 – 30 reported cases a year. This is because all fish, which all have parasites and worms (Lord save us!), are frozen on catch to minus 4 degrees according to FDA regulations to kill said worms. In Japan, where they prefer the fresh flavor/texture, it is not frozen on catch. Thus, the worm (if you are eating, perhaps stop reading now), sensing that its host is dead or dying, quickly burrows into the flesh where it is harder to spot, except by the most brilliant of sushi chefs perhaps, and where it waits for the next fish host. In humans it doesn't live longer than three weeks – the longest three weeks in your life.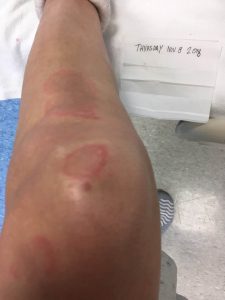 "Have you had any strange stomach or indigestion-like pains in the past few days?" would have been a great question to ask me in the ER the first time I went in with the rash. Right after, "You were just in Japan, you say?" As it was, when I went in on the Sunday, I was given Prednisone, which then masked the allergy markers they looked for when I had to go back in on the Tuesday, with a raging temperature and the Cray Cray itchy full-body version of the rash.
Four hospital doctors (at a cost of God alone knows what each) were put on my "team" and all failed to catch it, although one got close with a diagnosis of "Definitely Scombroid" which I am so glad it was not! (Look it up!) Meanwhile, I was hooked up to an IV machine and given Prednisone and Benadryl to no avail and would have gone completely mad if it hadn't been for the incredible nurses who were above and beyond! If you are a nurse and you are reading this, I LOVE you, even if I've never met you! Thank you for your service!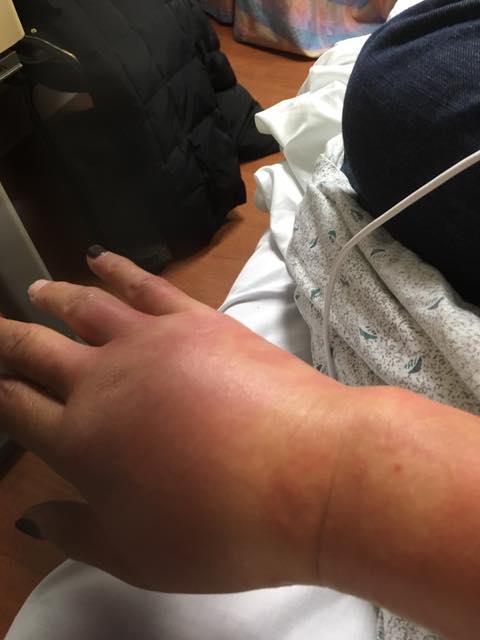 And I have to say, I liked all the doctors, too. But, over-worked and over-extended, they were like those iRobot vacuum cleaners you see on TV which are activated into auto-piloting away in reaction whenever they hit a wall. They were impossible to find (e.g., it took until the next day to be seen by the infectious disease specialist and no one even CALLED the allergist until Thursday evening and I NEVER saw the promised dermatologist), When they did appear, they would swish in, hit the edge of the bed (which would activate the autopilot retreat response), ask about the symptoms, not appear to be listening, and be already backing out of the door before asking if I had any questions – by which time they were just a forehead in the door.
This is how hospitals run BUSINESSES. Healthcare has no business being a business!  I literally was barcoded on arrival and every single procedure I had I was zapped with a barcode reader. Every three hours through the night having my temperature and blood pressure taken. Every pill. Every blood test (30 in all) Every kind of test – one of which was delayed because they needed a bar code to process it and it hadn't yet been entered into the computer system by the chief doctor. I mean . . .  just the time-wasting alone!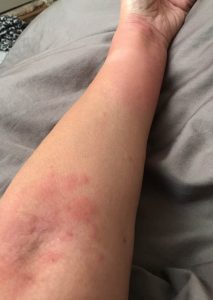 Those little boys and girls that dreamed of being doctors when they grew up probably did not have this in mind – and I am quite sure that with all the paperwork and crap they have to deal with, their jobs are even harder than they look from the outside. The doctors are made to run from patient to patient to make the most money for the hospital and are too tired and overworked with insanely long hours (one of my doctors seemed to be there from dusk til dawn and back again, literally) to NOT miss things. I certainly couldn't work like that!
The final diagnosis came from the one doctor (called in from the outside) who made the time to listen, allergist, Dr. Bielory. He turned up at 7pm on Thursday night, wondering what had taken so long to call him. He introduced himself. He walked in. He closed the door behind him. (Wait, how will you back out of the room if the door is closed?) He had a cup of coffee in his hand. He SAT DOWN on the comfy chair (the rooms were amazing – at a cost of $7k per night!). He looked right at me and said: "Tell me what's happening."
He listened to my answers while remaining in the chair. He looked at the rash. He touched it. He said, "I've seen this before and I'm pretty sure I know what this is and I am going to go away now and come back tomorrow morning when I am sure." He had on no white coat. He was in casual clothes with a baseball cap covering his yamaka. He looked like one of Billy's audiophile buddies. Maybe he even WAS an audiophile. He sure knew how to listen! I felt SAFE! I felt ATTENDED TO! I totally trusted him with all my instincts. He then went and worked for another two hours in the nurse's station doing extra research on his phone (according to one of my spies – a nurse, of course!).
The next day he came in around 9am and broke it down for two of the other doctors. He explained how he arrived at this diagnosis (including my vivid description of how "it couldn't be Scromboid because the fish was so FRESH") and why my IgE markers were skewed and then he prescribed THE SINGLE FRICKING ANTI ITCH ANTIHISTAMINE THAT WORKED and the medication to get rid of the worm.
"I start with the patient," he said. "That's how you get to the diagnosis." When he left, I turned to one of the doctors and said, "Wasn't that amazing?" And she said, "That's why I went into medicine!" (Oh, not to fill in forms, be made to fulfill patient quotas and run around from bed to bed activating the hit-and-back-away reponse?) Incidentally, Dr. Bielory emailed me daily over the weekend to check on my progress.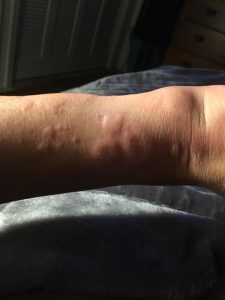 By the time I left the hospital on the Friday it was evening, and my insurance auto-refused the remaining medication and was closed after 5pm and over the weekend and Veterans Day (crying out loud!). But I had taken two days of it, and probably didn't need any more, since the rash quickly disappeared after treatment started.. This saved us all from enduring the merry little insurance dance of having the already overworked hospital doctor waste precious diagnostic time filling in stupid justification forms to get it. And it saved me from ingesting more poison (I'd already had a day of it in hospital and had been sent home with another day's worth).
However, had I needed it, the cost of the pill in the USA is $962.28 per pill! Per pill! In Canada (online) $1.17 per pill. In the UK all medication, whatever it is, costs 8.60 pounds per prescription – not per pill – unless you are over 60, under 16, under 19 and in full time education or – God forfend in the US! – have cancer, when it is free! (I believe there is penalty for cancer here!). I am so glad I got a relatively painless education in how the system works (this is WITH insurance! God knows if I didn't have it). But I worry for the people whose education is painful – or worse. Fatal!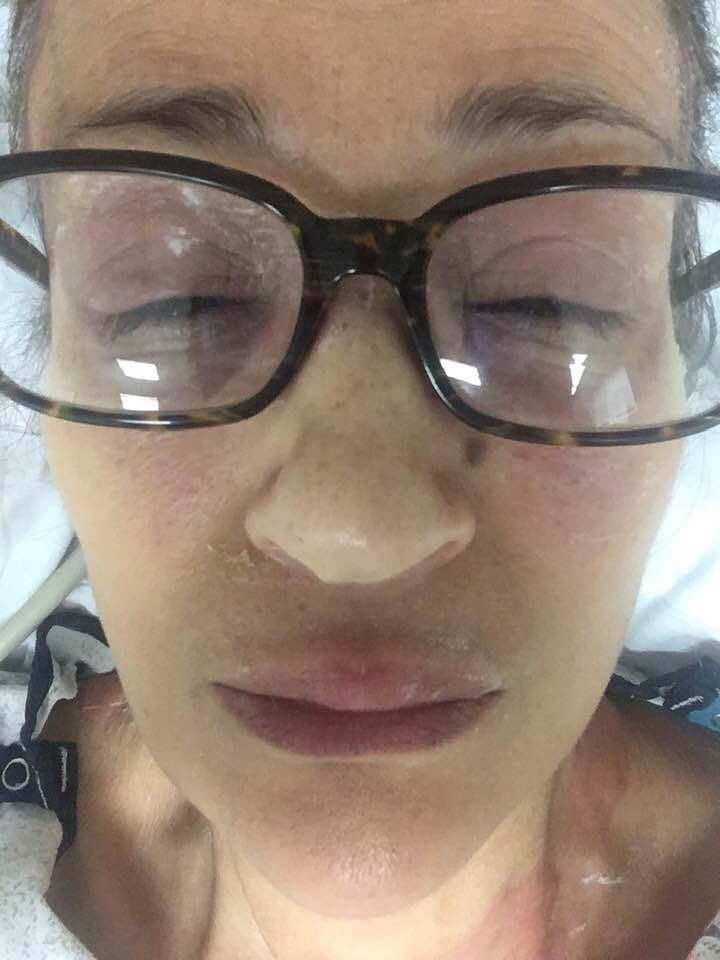 As the giant welts and dark purple stains faded to a sort of mauve beige that Martha Stewart Paints might have called "lilac mist reflected in fur of country mouse," and as some of the Kandinsky drawings on my face and neck weirdly totally vanished, I felt more and more grateful for my lucky escape and lessons learned!
Like how we should bow down to all nurses, even while they are zapping the bar code on our wrists. How not scratching an itch is IMPOSSIBLE – never mind if everyone says it will leave permanent scars! It did, by the way. Like how kind people are when you are in trouble. There is a lot of "beauty is as beauty does" out there, for which I am truly grateful. Even the Walgreens in Rosedale called me to make sure I was okay and to say they were chasing up the prescription – without me even asking them to! Like there is a thing called Scombroid which I am very glad it wasn't. Thank you also everyone who sent/brought flower/plants/cards/provisions.
And although it was hard to look at, thank the lawd it wasn't  contagious – unless you killed and ate me without freezing me to minus 4 degrees first. And if you did that, then I guess you'd have deserved it!