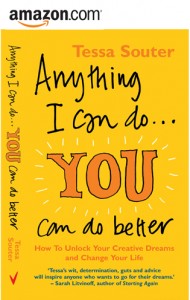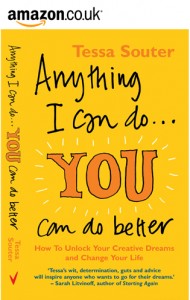 Today I have a question to answer, which  MP left today on Day 1 of the blog.
Question: "I have started on my 5 year plan, resolved to leave "realistic" out of it, and come up with something inspiring and fantastic. A few days into this assignment, however, and I am finding that I am having trouble dreaming and visualizing. Have I become resolved to settling? I don't think so, because I am not comfortable here, either. Tips, pointers, encouragement??? Any insight would be most appreciated."
Answer: [book excerpt]
By now we've all heard that hackneyed Goethe quote: "Whatever you think you can do or believe you can, begin it. Action has magic, grace and power in it." If only it were that simple. But it's not. Because, although starting is important (duh!), at no point are you more vulnerable to stopping dead in your tracks than at the beginning. As Martha Graham once said: "The ordeal of isolation, the ordeal of loneliness, the ordeal of doubt, the ordeal of vulnerability which it takes to compose in any medium is hard to face." 
It's no wonder so many of us give up before we even begin.
Have you heard of Charlotte Bronte's novel Emma? No? Ah.That will be because when she showed the first few pages to her new husband (she married late, thank goodness) he said: "Hmm. Not up to your usual standard, dearest…." And she never wrote another word, of that, or any other novel, ever again.
So, MP, are you being your own "Mr Bronte"? Is the problem with your dreaming and visualizing coming from your inability to really believe in the outcome. Are you being too hard on yourself, thinking who the hell do you think you are? Are you stumbling over visualizing all the steps it will take to get there?
For any or all of the above, my advice is to go one small step at a time. "You don't have to take the whole staircase," to quote Dr. Martin Luther King. "Just take the first step."
For example, keep visualizing yourself collecting your Oscar or Grammy or Whitbread or Nobel or other relevant prize. But then visualize only the NEXT step towards it. Not all the steps.
When I started singing, all I had to do was trundle along to the next open mic. The idea of having a CD, let alone three CDs as I do now, was miles away in my mind. It was a dream, perhaps, but absolutely not something I considered a real possibility. The same with being a journalist. When I got my first job as an editorial assistant, actually writing for magazines was a dream but, again, not something I really thought would happen. But I faithfully took the first step by applying for (and beating out a hundred others to get) a job as a lowly editorial assistant at Parents magazine.
Did I think I would one day be writing for The Times or Elle or Vogue — which is what I ended up doing? Absolutely. er… Not. And when I got my first commission, when the Parents editor just announced at a meeting one day that I was going to be doing a piece for the next issue on introducing children to the opera and ballet and other adult leisure pursuits, I was shocked. And terrified.
So I called my writer friend, Sarah Litvinoff, author of The Confidence Plan: Essential Steps to a New You, who at the time I barely knew, and asked if I could read her my first paragraph over the phone.  "Of course!" she said. When I'd finished she said: "Oh, it's wonderful. I can't WAIT to hear the next paragraph!" Eventually, paragraph by paragraph (all read to Sarah over the phone), I finished it.
Actually, even while I was writing this book, I struggled with the idea of writing an entire book, until my editor at Random House told me to think of each chapter as its own long article. That made it much more manageable.
So my advice to MP at this stage is:
Keep visualizing the "end", in a very light way, without thinking at all about allthe steps it will take to get there.
Think about ONLY the very nextstep — going to the next open mic, applying for magazine jobs, writing the next paragraph….
Enlist the cheer-leading skills of a friend who believes in you and (very importantly) the possibilities for you.
For crying out loud, don't ask "Mr Bronte" what he thinks — even if he's you.
Let me know if that helps.