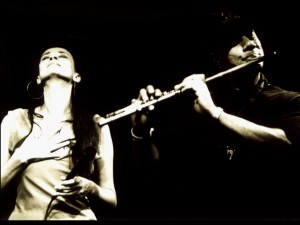 A protégé of jazz vocal legend Mark Murphy, who called her a "true musician,"  "very moving" and "an extraordinary talent," Anglo-Trinidadian vocalist, Tessa Souter, whose distinctive and exotically beautiful style of jazz evokes Andalusian Spain, North Africa and the Middle East, as well as the Celtic folk music she grew up listening to, has established herself as an uncommonly creative vocalist and songwriter over the past two decades. Ever since the release of her 2004 debut, Listen Love, she has cast an increasingly wide net, from 2008's all-star Nights of Key Largo (Venus), to contributing original lyrics to instrumental jazz standards, and re-imagining classic British rock on 2009's Obsession (Motéma). Her all-star Third Stream project, Beyond the Blue  (Venus-Motéma, 2013), featuring Steve Kuhn and spotlighting Souter's own "exhilaratingly mature lyrics" (Chicago Examiner) to classical gems by Albinoni, Chopin et al, was a London Sunday Times Jazz Record of the Year in 2013.
Her latest project, Picture in Black and White  (NOA) – the second of her albums to be a London Sunday Times magazine Jazz Record of the Year – is a riveting musical journey inspired by her discovery at age 28 that her estranged birth father was Trinidadian and black, having been brought up to believe he was Spanish and white. The album was WVCR FM DJ Jay Hunter's Best Vocal Disc of 2018, Ken Dryden's and W. Royal Stokes NPR Critics Poll, Best Vocal Jazz Album of the year, and a London Evening Standard and London Sunday Times Jazz Album of the Week,.
Since giving up her former career as an international features journalist for magazines and newspapers to devote herself to music, Souter's artistry has gone from strength to strength, taking her on multiple sold out tours of the philharmonic halls of Russia and performances at SF Jazz, the Kennedy Center Millennium Stage, Dizzy's Club Coca Cola, Mezzrow, the Blue Note, Jazz Standard and Joe's Pub in New York, Pizza Express, Ronnie Scott's, the London and Edinburgh Jazz Festivals, Star Eyes (Nagoya), and Body and Soul (Tokyo), Japan. Pre-pandemic, her 17-year monthly residency at New York's iconic 55 Bar was frequently standing room only.
She has appeared six times at the Xerox Rochester International Jazz Festival, where in 2015 she was one of only four (out of 4,000) musicians to be filmed by PBS Television for her own one-hour special (broadcast over 92 networks), and where, in 2017, the Rochester Democrat and Chronicle singled her out as "the one performer not to miss" over the entire nine-day festival and the Rochester City Paper's Ron Netsky, out of 1500 artists (including established vocal stars) named her one of his two favorite vocalists of the entire festival, along with Cécile McLorin Salvant, in 2015.
As well as making five albums as a leader, she also appears on legendary bassist Charnett Moffett's Spirit of Sound (Motéma) album and on French singer Pascalito's upcoming The Picture of Rafael Ohayon, and has performed and/or recorded with a veritable who's who of jazz, including Steve Kuhn, Alan Broadbent, Kenny Werner, Mansur Scott, Yotam Silberstein, Yasushi Nakamura, Joe Locke, David Gilmore, Marvin Sewell, Billy Drummond, Joel Frahm, Tom Guarna, Lew Soloff, Romero Lubambo, Larry Koonse, Dana Leong, Francois Moutin, Lynne Arriale  and Howard Johnson, who said of her, "Her brilliant lyrics and songs make her stand out from the pack so very much, not to mention how wonderfully she handles other people's material."
"No jazz singer is exploring the confluence of the personal and political with more probing intelligence," said Andy Gilbert in the San Francisco Chronicle.  James Gavin, two-time recipient of ASCAP's Deems Taylor-Virgil Thomson Award for Excellence in Music Journalism, concurs: "This album is much more than a rich collection of unusual songs, beautifully sung. It has the narrative arc of a fine short story, told with the intelligence and heart that Tessa brings to all her singing and prose-writing. Once more she has taken the endangered art of the album and mined it to its fullest."
To quote Los Angeles-based guitarist, Larry Koonse: "Tessa Souter has all the qualities I value most in a musician: great time, beautiful phrasing, gorgeous sound, a respect for silence, an emotional connection to the moment and a wonderful ability to tell a story. She is the 'real thing' in every way." "Best of all she delivers it with a wit and a wink worthy of the toniest joints in town." (TIME OUT NEW YORK)